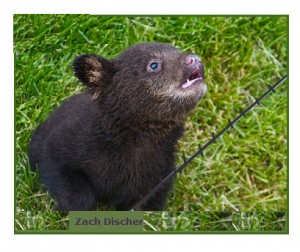 1. One way to encourage writing is for kids to write stories about a picture.
Use your own photos or find photos on the web, such as on Flickr Creative Commons where pictures are shared–read the required credit for use.
Tell the kids that they are to pretend that the photo is a "freeze frame" from a video of the bear cub. Their assignment is to create a story about what they think is on the  complete video from start to finish.
Past: Events leading up to the bear cub being in the situation shown in the photo.
Present: Explain the "freeze frame" photo.
Future: What is going to happen next.
Technology Application:
1. Kids can use computer programs to create a slide show representing the story.
2. Some computer programs allow kids to create their story like a book.
I'll research and add links to these ideas. Making slide shows etc… is all new to me, but I will add information as I learn.
I WOULD LIKE TO KNOW ABOUT ANY FUN PROGRAM THAT YOU USE THAT WILL HELP ME AND OTHERS TO MAKE LEARNING MORE FUN FOR KIDS.
Contact me at ASK JANICE.
2. Another idea for writing about science is to use videos without dialog, such as the bear cub video below.
Kids can write a story or even a script for the film. It would be fun for kids to read their script as the video plays. If one child is portraying all the characters, he or she has to change their voice for each character. This would be fun.