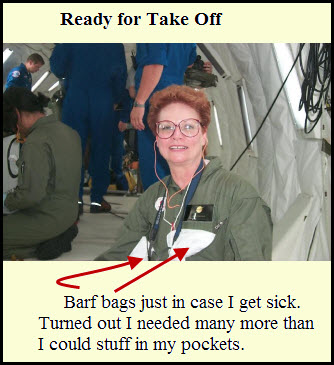 Can passengers in NASA's Vomit Comet Float Around in a state of weightlessness?
Yes, passengers in the plane can float during the ride but only for short periods lasting only about 30 seconds. Only in orbiting space craft do astronauts continuously float. In the KC-135, commonly called the Vomit Comet for obvious reasons, there are periods of zero gravity, and then the G force increases rapidly to 2Gs. Everything that is floating is slammed down twice as hard as it would be from the same height at Earth's normal gravitational force of 1G. To prevent injuries, one of the NASA crew gives a loud warning of "Coming Down." Hearing this you know that you have only seconds to get to the floor and secure your self. Those performing tests must be prepared so that they don't float off during 0 G or be slammed to the floor when the G forces quickly increase.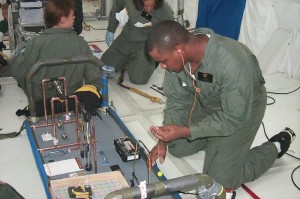 The changes in the apparent gravity within the plane are due to the shape of the flight path, which is much like that of a roller coaster's track. After leveling off at 26,000 feet (7,925 meters) the pilots shot the plane upward at a 45-degree angle. About 60 seconds later, the plane started "over the top" falling 8,000 feet (2,440 meters) or so until the plane pointed down about 30 degrees. During this fall lasting about 30 seconds the plane's acceleration equaled that of Earth's acceleration of gravity. During this fall, only what is secured to the plane moves with the plane. Because of inertia, things not secured did not move down with the plane. In other words, people not secured to the plane remained in place and the plane dropped out from under them. It was like sky diving inside the plane.
The change from 2G to 0G to 2G and so on was repeat as the plane "parabolas," a term used to describe the up and down curved shape of the plane's path. As the plane ascended the G force increased and then over the top of the curve and the it was back to 0G. The changes were quick and going from 0G to 2G definitely slammed my vertebrae together. My back ached for a while after the flight.