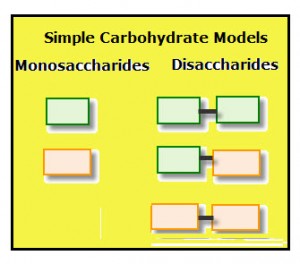 Carbohydrates, also called saccharides, are organic chemicals found in plants. The two basic structures of carbohydrates are simple and complex.
Simple carbohydrates are also called simple sugars and yes, they have a sweet taste.The simplistic nature of these chemicals has to do with their molecular structure. As the name implies, the structure of these molecules are simple and small.  The two basic types of simple carbohydrates are  monosaccharides (made of one sugar unit)  and disaccharides (made up of two sugar units).
The diagram uses two colored boxes to represent two different  monosaccharides. Using the two monosaccharides as the building blocks for disaccharides, three different types of disaccharides are modeled.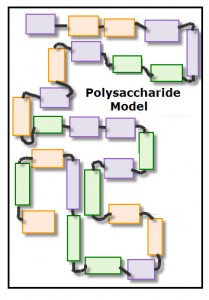 Complex carbohydrates, also called polysaccharides, are chains of three or more simple carbohydrates linked together. Starch and cellulose are examples of large complex carbohydrate molecules.