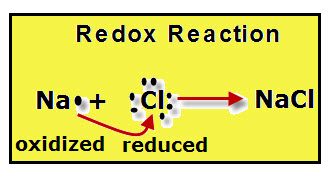 Oxidation is a type of chemical reaction in which electrons are transferred from one substance to another. For oxidation to occur, one substance must lose electrons and a second substance must gain the lost electrons.
The substance gaining electrons is said to be reduced and the substance losing the electrons is said to be oxidized. Thus an oxidation reaction is called a Redox reaction.
In the Redox Reaction diagram, sodium (Na) is being oxidized and chlorine (Cl) is being reduced.
While an oxidation reaction can be the combination with oxygen, it doesn't have to be. To make it clear that oxygen is part of the Redox reaction, one can refer to it as aerobic oxidation.