Directions for Folding and Cutting a Four Petal Flower
In this craft activity, you need paper (copy paper works), pencil, and scissors.
1. Cut a 4 in2 piece of paper.
2. Fold the paper square in half twice as shown in the diagram.
3. On the folded piece, draw what looks like a heart-shape.
Make note of where the fold is and you might draw

a diagonal line for reference. You can see a faint line in the diagram where curve of the drawn line stops.

4. Cut along the curved line –cutting through all four layers of the paper.
5. Unfold the paper and you will have a four-petal flower.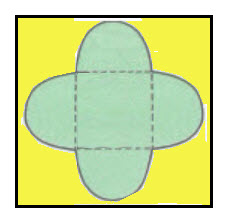 Paper Flower With Four Petals.