How Do Fluorescence and Phosphorescence Differ?

Fluorescence is a type of luminescence that emits visible light as long as there is a supply of excitation energy. In the fluorescence diagram, the excited electron jumps from level 2 (its ground state) to level 3.
Atomic Energy Levels can be compared to stair steps. It take more energy to climb a lot of steps than just a few.
In the diagram, the excited electron on level 3 losses photons of energy and returns to its ground state. Some excited electrons jump more than one energy level. When these electrons return to their ground state, they release photons along the way as they move down the "stair steps.)
Fluorescence appears to cease the instant the excitation energy is removed, but some phosphors continue to fluoresce for a fraction of a second longer. Special instruments are needed to detect this after glow.
Example: Chemicals in the exoskeleton of a scorpion will glow as long as a black light (light that emits UVA) shines on the scorpion. Turn off the light, and the exoskeleton stops glowing. Thus, the chemicals in the scorpions exoskeleton are fluorescent.
Phosphorescent materials produce light in a similar way as does fluorescence materials. A visible difference between these two types of luminescence, the ability of phosphorescence materials to glow aft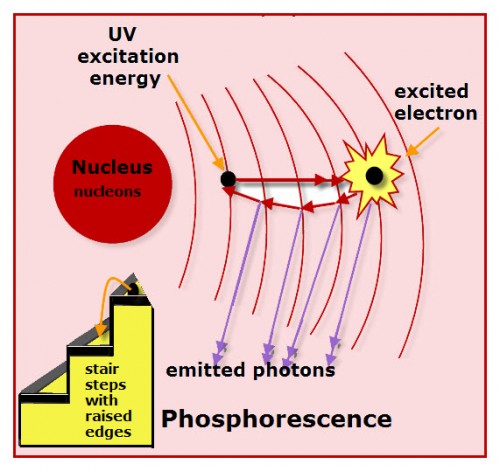 er the excitation energy source is removed. Some phosphorescence phosphors glow for a few minutes, while other may glow for days.
Example: Glow in the dark toys that when exposed to sunlight glow when placed in a dark room.
The extended after glow time for phosphorescent materials is due to the excited electrons jumping to higher energy levels than do excited electrons for fluorescence luminescence.
Excited electrons can be compared to a ball sitting on a stair step above the ground level. The higher the step the more energy needed to raise the ball to that level.
The stair steps for fluorescence can be visualized as being flat, like any steps on stairs. A ball on these flat steps could easily roll down the stairs. The same is true for excited electrons producing fluorescence luminescence.
The phosphorescence diagram has stair steps with raised edges. It would be more difficult for a ball to roll down these steps. In like manner, excited electrons that produce phosphorescence luminescence are trapped temporarily on each energy level. Photons continue to be emitted as the excited electron moves around until it finally has a path back to its ground state.