MA-SCI-YA  Week
What fun it is to correspond with educators around the world. A teacher from the Philippines introduced me to a Tagalog word for happy, which is "masaya." In her school, a week is set aside for kids to play and have fun with math and science games and activities. It is a Happy Science/Math Week of Fun in which kids apply the concepts they learned.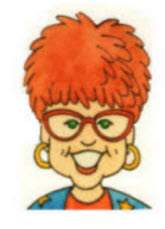 I've been asked to provide ideas for this years MA-SCI-YA Week. The following instructions for making paper fleas and having a flea jumping contest is perfect. Measuring is part of the preparation for making the fleas and distance the fleas jump is also a measurement. This takes care of introducing math. As to science–of course fleas are animals and info about the fleas can be given, but the main thing is why they hop so far–this is explained- its their springy back legs. Let's get to the fun.
Fun Facts About Fleas
Before a flea jumps, the springlike material in its hind legs is pushed together, like the spring in the flea jumper in this investigation. When the flea's legs stretch out again, the "springs" push the legs forward and the flea jumps through the air.
If the size of the body is considered, fleas would win the gold medal in any Olympic jumping contest. Some fleas can jump 12 inches (30 cm) or more. This is almost 200 times the flea's body length. If you could jump like a flea, you could hop over a 50-story building.
Paper Jumping Fleas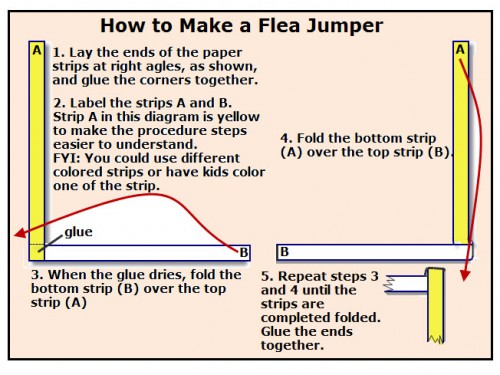 Using strips of paper, kids will construct "Flea Jumpers," and then enter them in a Jumping Contest.
Materials Per Contestant:
Cut two 3-cm by-20-cm strips from card stock or use a  file folder
transparent tape (glue works but takes time to dry)
1-pencil or pen to write with.
Use the instructions for "How to Make a Flea Jumper."
While the instructions use glue, I suggest tape if you do not have time for the glue to dry.
Testing Your Flea Jumper
Demonstrate how to make the paper fleas jump. To do this, stand your own paper flea on a flat surface, such as a floor or table. With one finger, push down on the flea so that the folds of the flea jumper are squeezed together. Then,  quickly slide your finger off the back edge of the flea and watch it jump forward.
Practice and try different methods to make your flea jump forward. Distance is what you want.
All the kids use the same instructions to learn how to make their flea jumper. Thus, all the fleas are basically the same. The only variable will be how each "launches" or makes their flea jump.
Let The Games Begin
Contest Rules
Contestants will have three trials to make their flea jump. The longest distance will be recorded.
If kids are grouped, then the scores of each group member will be added together. You might have a prize for the winning group.
Testing Track
I tested the fleas on the floor, but a long table would work. My kids sat on the floor on each side of the testing track, which was marked with masking tape on the floor. A starting line was also marked. For a carpeted area, you will need something flat for the fleas to jump off of–a board or heavy book will work.
I have also used a long sheet of paper for the track. This allowed us to mark the position where every flea landed. Initials of kids or entry number of the fleas could be written on the paper.
This was a fun activity and one that could be used later to teach kids how to investigate different variables. For example, kids could test different variables. From the results they could create a "super flea jumper." For example, using the same instructions each kid could test one variable. Encourage kids to write science questions that identify the variable being tested (independent variable–cause) and what this variable affects (dependent variable-what is affected). For example"
What effect does the size of the flea jumper have on the distance it jumps?
Independent variable–size of the flea jumper
Dependent variable–jumping distance
Constant variables–type of paper used, number of folds, how it is folded, how ends are secured, how it is tested.
Other variables can be tested, such as number of fold, types of paper used, etc…….
Books Ordered From Publisher–John Wiley and Sons
20% Discount Code AFF20
---
Flea Jumper is from this book. It has many more fun activities.
---
---