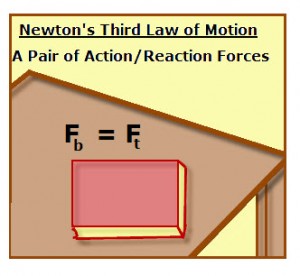 Newton's Third Law of Motion describes the characteristics of a pair of action/reaction forces:
1. The two forces are equal in magnitude.
2. The two forces push or pull in opposite directions.
3. The two force act on different object.
The force of one object is acting on a second object and vise-versa.
4. The description of one force is the reverse of the second force's description.
Example:
A book is placed on a table.
The book pushes down on the table with a force (Fb).
The table pushes up on the book with an equal force (Ft).