Projectiles Have Two Basic Characteristics:
1. Projectiles are launched into the atmosphere or space. This means that projectiles objects that are hurled, pitched, tossed, thrown, or propelled in some way but do not have any device that keeps them moving, such as an engine. Instead, projectile, as described by Newton's First Law of Motion, are objects in motion that continue to move until some force stops them. This characteristic of motion for any object is called  inertia.
A paper airplane is an example of a projectile. Once you throw the airplane, it moves in the direction that you threw it until something stops it. It takes very little effort force to throw the paper airplane and it takes very little effort force to stop it. This indicates that the inertia of the paper airplane is very low. Inertia and mass are directly related. If you used heavier paper –more massive paper, it would require more effort force to throw it and more effort force to stop it. Thus, the more massive airplane has more inertia–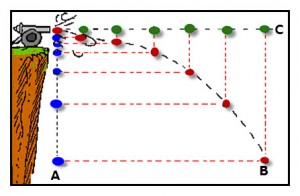 2. Projectiles are acted on by gravity. Earth's gravity is a force that pulls a projectile, such as a tossed paper airplane, toward the center of Earth. In other words, gravity pulls things down. Down is a vertical direction- perpendicular to the Earth's surface, and points toward Earth's center.
The path of a projectile is called its trajectory.
The diagram shows the trajectory of the blue cannon ball as a result of the ball's horizontal (C) and vertical motion (A). A projectile's trajectory is always curved because the vertical motion accelerates the ball and the horizontal motion remains at a constant velocity (same speed in the same direction).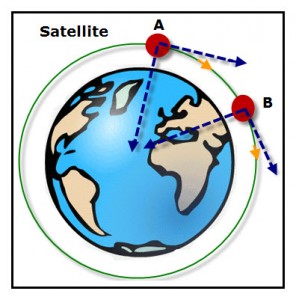 Satellites, natural or man-made, like the cannon ball have a curved trajectory as a result of its motion due to inertia and the gravity of the celestial body the satellite orbits. It is said that a satellite, such as the Moon or weather satellites are falling around the Earth.
To explain this, let me first define orbit, which the curved path of a satellite around a celestial body. This could be a planet or a comet revolving around the Sun or the particles orbiting Saturn, which form the planet's rings.
Orbit as a noun is a curved path.
[The orbit of a comet is more elliptical in shape than is Earth's orbit.]
  Obit as a verb is the motion of the satellite as it follows its orbital path. [Earth orbits the Sun in about 365 days.]
Satellites crash into the Earth when something causes their forward velocity to decrease.
When launched, if the forward velocity is too fast, gravity would not be strong enough to keep the satellite from moving in a straight line away from Earth.
Did You Know!
There are more than 13,000 man-made satellites orbiting Earth.

More About Projectiles

A projectile is any object that is thrown, pitched, hurled, or tossed
The painting by Veronica Nagy, "The Slingshot," is an example of an instrument used to sling rocks or other objects toward a target. In the painting, the target is an apple sitting on a distance tree branch.
From the picture, if the rock is slung toward the apple, will the rock hit the apple? In other words, make a prediction about the outcome.
Predictions are guesses about what is going to happen. It could be an immediate results, such as slinging the rock to determine if the apple is struck.
Some predictions are for an event that will happen in the distant future. But, for most science investigations, a prediction is what you think the results of an investigation will be. Predictions are not wild guesses, instead, they are ideas based on information about the topic.
Actually, using only "The Slingshot" painting, you could not make a reliable prediction, which is one that has merit or one that is likely to happen. Anything that is said to be reliable is something that can be trusted, at least within certain conditions.
A prediction about whether the rock in the painting would hit the apple is not very reliable because there is not enough information. This means that more data is needed.
Data is factual information, generally recorded, about a specific topic; measurable results from an experiment; observations made during an investigation. Any and all information collected when researching a topic is considered data.
Research is the method for collecting data. See, Science Project: Research for information about the two basic types of research: Fact Finding and Exploratory.
Fact Finding Research : Projectile Data
The information found in this section comes from different reliable websites and books.
Once a projectile has been propelled (slung, hurled, thrown, etc..), gravity is the only force acting on it.
A force is a push or pull on an object that causes the object to accelerate in the direction of the force.
Accelerate means the moving object changes in speed and/or direction. You are more familiar with the acceleration of a vehicle, meaning the "accelerator petal" is pushed down more so that the car's speed increases as it moves forward.
In science, a car that is turning in a circle, such as the Mustang doing donuts in the video, is said to be accelerating because it continuously changes direction so that it moves in a curved path. While the Mustang  the car is not a projectile, it motion is an example of acceleration. (Motion is any action resulting in a change of position.)
Satellites, whether natural or man-made are examples of projectiles.
cast, fired, flung, heaved, hurled, pitched, tossed, or thrown. (This is an informal definition.) The path of a projectile is called its trajectory. Some examples of projectiles include …
(1.) a baseball that has been pitched, batted, or thrown
(2.) a bullet the instant it exits the barrel of a gun or rifle
(3.) a bus driven off an uncompleted bridge
(4.) a moving airplane in the air with its engines and wings disabled
(5.) a runner in mid stride (since they momentarily lose contact with the ground)
(6.) the space shuttle or any other spacecraft after main engine cut off (MECO)
Enriched Information about Projectiles.