Tip: Look for Ideas you can adapt.
Tip: When looking for new ideas, don't negate websites for young learners even if you teach older kids.
For example, in reviewing the ABCMouse website for young learners, puzzle pieces were used to represent Word Families, such as pig.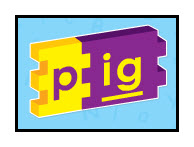 When I click on the pig puzzle piece other letter letter choices were available. I could use j, to form the word jig, etc….
WOW!!! Why not use puzzle pieces to form Metric Family Words. Instead of writing out the words, the symbols could be used, such as shown—
Please send ideas you want to share with educators to:
ASK JANICE