Can a volcano be my science fair topic?
Yes, volcanoes can be the topic of your science fair project–IF your project is an experiment with measurable results. This means that making a model of a volcano is generally not enough. Yes, it could be part of your project, but most project are expected to have and experiment with measurable results.
How to Get Started
Before starting a science project, first find out what is expected. This video by Kevin Temmer will give you clues.
Now its time to start your research, which involves finding out about volcanoes. The types of volcanoes can be found here.
Research: Why do volcanoes erupt?
1. Volcanoes erupt in different ways, some explode violently, some are less violent.
2. Volcanoes explode because of a build up of pressure under the Earth's surface. .

Explosions can be caused when gas inside a closed container gets hot and starts moving faster. Explosions can be caused when more gas is produced inside a closed container.

Did You Know!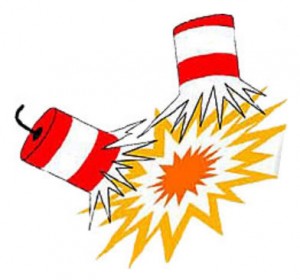 Firecrackers are an example of an explosion resulting from a gas being produced in a closed container.. When the chemicals inside the firecracker are headed gas is formed. As more and more gas is produced the pressure becomes so great that it breaks its container. This happens so quickly that a loud sound is heard.
Like a firecracker, gases build up inside a volcano until finally it explodes–breaks open the Earth's surface so that gases escape. The escaping gas pushes solid and liquid rock up and out of the Earth.
Adding Mentos Candy to a bottle of soda causes gas dissolved in the soda to quickly come to the surface of the liquid, thus building up pressure inside the bottle. The gas pressure forces it way out the opening bringing with it part of the soda. Different than a volcano, but similar in that both eruptions are caused by excess gas pressure in a container.
Research: Safe Ways to Experiment
How can you cause safe explosions?
1. When a sealed potato chip bags get hot it expands and sometimes the bag opens on its own with a " bang!" Why? Because when a gas is heated, its molecules move faster. The hotter the gas the faster they move and the harder and more often they hit against the sides of their container.
Discover for Yourself
Air inside a zip-lock bag does the same thing. Place a sealed zip-lock bag in areas with a different air temperature–inside a freezer–outdoors in direct sunlight on a hot day.

2. Shake a sealed can of soda. The video gives you information about the production of gas when you shake a soda. 
How can you safely produce a gas?
Alkaseltzer produces a gas when dropped in water. Baking powder and water also produce a gas.
I wonder…What would happen if I used different amounts of alkaseltzer (or baking soda)?
How can you change the temperature of the gas in a closed container?
Place the container in different areas. The temperature inside and outside a house is often different. Inside a room, the temperature is often hotter at the ceiling than near the floor.
Heat the container by placing it in a bowl of warm water.
Cool the container by placing it in a bowl of icy water.
2. How can you produce more gas in a closed container?
Place a small amount of water inside a resealable plastic bag. Add a small piece of alkaseltzer and immediately seal the bag. It works best if you can keep the water and alkaseltzer seperated until the bag is closed.
Think!
A dormant volcano is like a closed container. When gas pressure builds up within this closed container, it erupts when the pressure is enough to break through the Earth's surface.
I wonder…How can I experiment to determine how heat affects gas pressure in a closed container?
I wonder…How can I experiment to determine how gas production affects the gas pressure in a closed container?