Exploratory Investigation About Shadows
This exploratory investigation gives you background information about shadows.
A flashlight will be used as the light source and can be used to represent the Sun.
The data collected can be part of your science project research.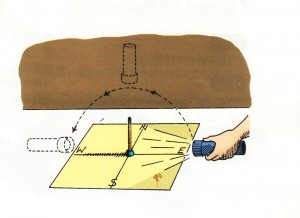 1. Draw two perpendicular lines across the center of a sheet of paper.
2. Print the compass directions, N, E, S, W on the ends of the lines as shown.
3. Use clay to stand a pencil where the lines cross.
4. In a darkened room, hold the flashlight on the east side and about 6 inches (15 cm) away from the pencil. The light should be pointed toward the side of the pencil. Observe the length of the shadow.
5. Slowly move the flashlight in a semicircle over the top of the pencil until the flashlight is on the west side, pointing toward the pencil.
Observe the length and direction of the pencil's shadow during this movement.
Astronomy Science Project Ideas
Facts
What Do You Want to Find Out?
Shadows do not form outdoors on a cloudy day.
If it is daytime, and the Sun is above the horizon, what effect do the clouds have on sunlight that prevents shadow formation?


A lunar eclipse occurs when the Moon moves into the Earth's shadow.
Since the Moon rotates around the Earth each month, why isn't their a lunar eclipse every month?
A solar eclipse occurs when the Moon moves between the Sun and Earth.
Since the Moon rotates around the Earth each month, why isn't their a solar  eclipse every month?

MORE IDEAS WILL BE ADDED
---
---