Spontaneous?
Spontaneous Science?
Spontaneous:
Arising from a momentary impulse.
Spontaneous Science:
Seizing opportune moments to play and have fun with science.
Since science is a study of everything in the universe, science is happening around us 24/7. I am coining the term "spontaneous science" for any spur of the moment, wild, crazy, and creative idea that leads to a fun science related WOW! event.
Question: What is a WOW! event?
Answer: Anything that is fun! Makes you laugh (or at least grin). Of course if kids say WOW! you know you've just experienced a WOW! EVENT.
The photo shown is my granddaughter, Lauren, wife and soon to be mommy. YIKES! This will make my seventh great grandchild. Another scientist for granny to play and find out more about science with.
No! Lauren doesn't have six arms. The extra two pairs of arms and hands –OOPS! I am getting ahead of myself. Let me start from the beginning so that you can follow the thought process for this wild and crazy spontaneous science WOW! event.
WARNING: Even a glimpse into the brains of those involved in this event might be contagious. Continue at your own risk!
The Metamorphosis of Lauren the Noodling Butterfly
(How about this title–with a little practice you too will be able to relate science to everything so that everything has the change of evolving into a Science WOW! event.—YEA!!)
Lauren agreed to help me with photos I needed for a craft project. She collected the foam water noodles while I prepared my camera- meaning my husband the hundredth time demonstrated how to use the camera. (I am camera challenged along with remote control challenged, etc….)
Prepared to take a few simple pics of colored noodle, I was thrilled to find 6 ft tall Lauren literally bouncing around with her butterfly-like noodle wings.
This was A WOW! event in itself, which turned out to be the catalyst for a WOW! WOW! event. (A very subjective evaluation and can only be determined by those participating.)
Lauren and I were both laughing when in unison, my daughter, Lauren's mom, and my husband appeared.
"I wonder…Does laughter have an extraordinary power of attraction?" 
No explanation was necessary, Lauren's appearance said it all.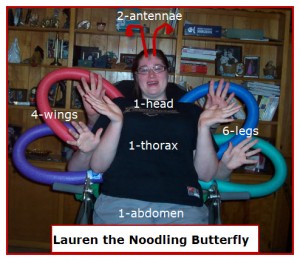 From butterfly wings to the addition of two sets of arms happened so spontaneous my mind doesn't recall any step-by-step process.
We were all laughing so hard I am surprised that the two stayed crouched behind Lauren long enough for the camera to capture the picture.
I've added labels to the photo and can use is as a fun model for the basic body parts of a butterfly.
Just For Fun!
Kids could create their own butterfly models.
---
Resources for Teaching the Fun of Science
---