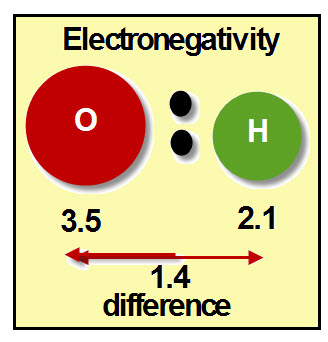 YIKES! While they sound very similar, don't confuse the term " a hydrogen bond" with the term  "a hydrogen bomb"!
Since a hydrogen bond forms between molecules with polar covalent bonds, I will first explain polar covalent bonds.
covalent bond: Formed between two atoms that share valence electrons (electrons in the outermost energy shell). The shared electrons move around both atoms.The amount of time these electrons spend at each atom depends on how strong each atom's pull on the electrons is. If the pull is equal, then the electrons spend an equal amount of time moving around each atom.
electronegativity: The  strength of the pull  that an atom's nucleus has on the electrons around it. The higher the electronegativity, the stronger the pull a nucleus has on the electrons moving around it.
polar covalent bond (polar bond): This bond is defined by a difference in electronegativity values of the two atoms sharing the valence electrons. A covalent bond between two atoms is polar if the electronegativity difference between the atoms is  0.4 or greater.
You can predict the presence of a  polar covalent bond if hydrogen bonds with Nitrogen, Oxygen or Fluorine. This is true because these three elements have very high electronegativity values. Thus, the electronegativity between hydrogen and these three elements is  0.9 or greater.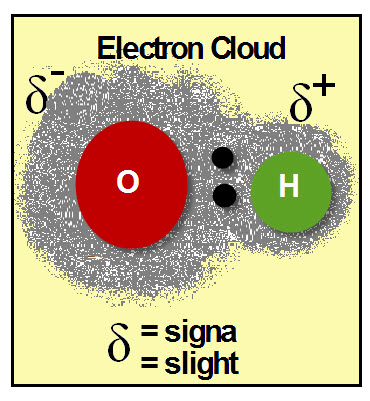 In the diagram,  the oxygen atom has an electronegativity of 3.5, and the hydrogen atom has an electronegativity of 2.1. These two atoms  share two electrons. Since the electronegativity difference is 1.4, and oxygen has the greater electronegativity, the shared electrons will spend most of their time moving around the oxygen atom, and very little time moving around the hydrogen atom.
This unequal time for the  shared electrons causes the oxygen atom, where the electrons spend most of the time, to have a slight negative charge.This negative charge is due to the atom having more electrons outside its nucleus than protons in the nucleus.
Since the shared electrons rarely move around the hydrogen atom, it has a slightly positive charge. This positive charge is due to the atom having more protons in its nucleus than electrons outside the nucleus.
Erin Schrodinger (1887-1961) an Australian physicist proposed the idea that electrons behave in a wave-like manner rather than just as particles and that their exact location within an orbit could not be precisely calculated. This idea was given the appropriate name of the uncertainty principle. Part of this principle is that the best diagram to indicate the  probable location of an atom's electrons is a cloud.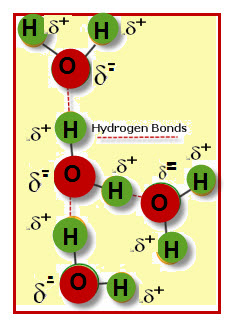 Polar Molecules, such as water, act like magnets in that they are pulled toward each other. Also like magnets, opposites attract. The positive atoms are attracted to the negative atoms.
The diagram shows the formation of  hydrogen bonds between the hydrogen and the oxygen atoms on different polar water molecules.