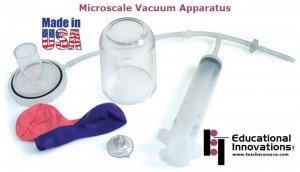 Physical Properties of Gases
1. Gases take the shape and volume of their container.
2. Gases will mix evenly and completely when confined to same container. This means that if you mix two or more gases, they form a solution. Air is an example of a solution of gases, which is made up of oxygen, nitrogen, and other gases.
3. Gases have much lower densities than liquids and solids.
4. Gases are most compressible of states of matter. This means that gases when squeezed  take up less space. Another description is that the volume of a gas decreases when pressure on the gas increases and vise versa.
Science Standards and Clues

Design an experiment that tests the effect of force on an object.
1. Test the effect of force on one variable.
2. Ask a well defined question that contains an independent and dependent variable.
Example: What effect does pressure have on the volume of a gas?
FYI: Pressure is the force on an area.
3. State a testable hypothesis
Example: Since gases are very compressible, an increase of pressure on a gas will cause the volume of the gas to decrease.
4. Select and use appropriate equipment.
Example: The diagram above shows a mini-vacuum pump that can be used to investigate how changes in pressure affects the volume of a gas.
Note: A food
5. Design and plan an experiment to test the hypothesis.
Clues: Since most gases are invisible, you will need to have gas trapped inside a material that can expand, such as marshmallows or shaving cream.
The following video provides research information for this investigation.
The video also has great teaching ideas for demonstrating the molecular motion of gases and how this motion creates pressure.
The video has enriched information, such the equation for Boyle's Gas Law.
Compare Relation Between the Volume and Pressure for Gases