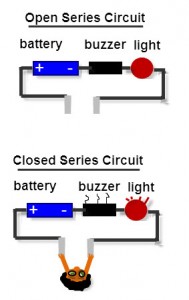 A Series Circuit is one large circle through which electric energy  passes.
Look at the diagram of the two series circuits. Notice that each contain three components, a battery, buzzer, and light.
An Open Circuit is one in which there is a break in the path of the electricity. Notice the gap in the circuit. Because of this break, no electric energy can flow. Thus the buzzer and light do not work.
The bulbs glows and the buzzer buzzes when the circuit is closed. A Closed Circuit is one in which there are no breaks in the path.
For more about open and closed series circuits, see the Energy Ball.