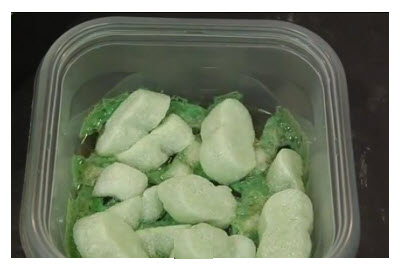 Styrofoam is a polymer. Polymers are large molecules made of units of chemicals, called monomers, linked together, much like links in a chain.
Styrofoam is a brand name of Dow Chemical. Styrofoam is used to make products, such as disposable coffee cups, packing peanuts, and coolers.
 Styrofoam was originally discovered by Geog Munters, a Swedish inventor.  But in 1941, led by Ray McIntire and a team of researchers in Dow's Chemical Physics Lab, McIntire, using Munters' method, made foamed polystyrene.  With exclusive rights to use Munters' patents, Dow mass produced styrofoam.
Foamed polystyrene crunches when cut, breaks into what looks like tiny sponge balls, and is moderately soluble in some organic solvents, such as the solvents in spray paint. Actually, saying that polystyrene dissolves in acetone, much like sugar dissolves in water is incorrect. Instead, acetone causes the bonds (links) between the styrene monomers to break.  When the bonds break, it opens air filled cells in the foam and the previously trapped air escapes. Styrofoam is about 90% air that is trapped in closed cells with polystyrene walls. The pressure of the air inside the cells, like air in a balloon, keep the walls rigid. Without the air, the walls collapse and thus the polystyrene has lost its foamed volume.
Discover for yourself
For more information, investigations, and a science fair project idea for reducing Styrofoam in landfills, see How to Deflate Styrofoam Cells