Paper Chromatography
Chromatography means to write with colors. Chromatography is a chemical process of separating mixtures of colorants.
The first video below demonstrates the following Paper Chromatography procedure steps. The video also has a craft idea for making a butterfly using the colored paper filter.
The second video below provides information about paper chromatography as well as more investigation ideas.
Procedure for Paper Chromatography
1. Using a water soluble marking pen, draw a circle about one inch from the center of a paper coffee filter.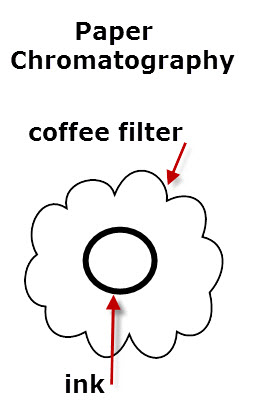 2. Follow the steps in the diagram to fold the coffee filter into a funnel.

3. Stand the paper funnel in a glass of water so that only the tip of the funnel touches the water.
Important: You do not want the colored ink circle to touch the water in the glass.
4. Repeat the procedure using different water soluble marker colors.
5. Repeat the procedure using a permanent marker.
Real World Applications
1. Water soluble inks dissolve in water and the different colorants in the ink will spread out through the paper.
2. Permanent ink will not dissolve in water.
3. Paper chromatography is used to discover the content of colored mixtures.
4. " Purple, Green and Yellow"  by Robert Munsch  is a fun book about washable and permanent markers.