DATE: March 29, 2012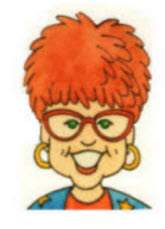 Recognize Your Engineering Skills
Kids and adults solve problems all the time. They even engineer ways to solve their problems.
I realize that my husband and I are not examples of average on any normality scale.  With that said, how we solve problems may not be examples to be repeated, but our systematic way of  problem aligns with the processes identified as scientific investigation and reasoning skills.
For example:
Observations: When the toilet was flushed by pushing down on the flush handle, the handle pushed down but didn't return to it normal position. Instead, it felt floppy.
Problem: The flush handle on the toilet broke.
Hypothesis-1: If the plastic parts of the handle  came loose, then they can be put back together.
Hypothesis-2: If the plastic parts of the handle  broke, then a new handle system will have to be purchased.
Observational Experiment
Generally, an experimental investigation is done to determine which plan of action must be taken. Now this is the grungy part, and the part that men are better at than are women (ha!). So my man collects his tools and starts to work taking the toilet handle off.
I washed the dishes in a pan of warm water (therapeutic for my arthritis also how we wash dishes since we do not have a dish washer) as my man analyzes the plastic parts and decides that the adhesive holding the parts is kaput!
New Problem: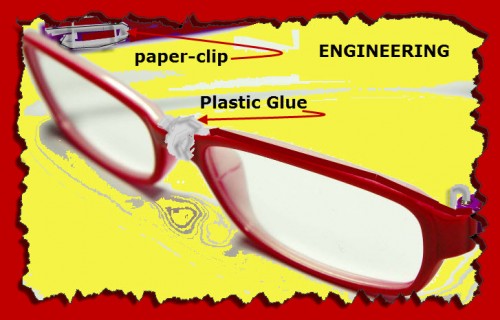 What kind of glue would secure the parts?
Now this is when "Queen of the Hot Glue Gun" appears on the scene.  I have learned that hot plastic can fix so many things. In fact, the plastic frames of my computer glasses broke in half. Yep! the bridge severed somehow. I didn't want to take the day off getting new frames, so I heated up the hot glue gun and voila! the two separate parts were connected again. No, they are not beautiful. Yes! The bridge has a blob of plastic on it, but it doesn't affect the lenses.
But back to my toilet flush handle.
Hypothesis:  If I can fix my glasses with hot plastic, then the hot plastic will secure the parts of the flush handle.
With my hot glue gun heating up, I analyzed the two parts to be secured. When the hot plastic dries the parts generally stay stuck together.
This is not always true. Since the break in the frame of my glasses just buts together, the blob of glue helps to form a secure bridge, but after a few months the glue breaks and I have to repair them again. I've been doing this for three years now. But it is about time to get new frames and lenses. The arms of the glasses are being held on by paper clips. Another engineering solution. Since the hanging paper clips bothered, I taped them flat against the arms. Since I only wear them in my office –I don't care much what they look like. I did make a mistake and wore them to town one day. It is a small town and I spoke to people I know. Not one of them commented about my glasses. How many time have I done this? Do people consider me eccentric and are not surprised by seeing my glued and paper-clipped glasses? Maybe, but then as I previously stated, I don't seem to fit in the average part of normality scales. Maybe its my glasses? My grandchildren say it is not normal for people to wash dishes in a pan. They want me to get a dish washer. If I did, I'd have to sit doing nothing while I soaked my hands in warm water. Seems like a silly thing to do.
Conclusion: The hot plastic dried in a few seconds and the plastic flush handle was again functional. YEA! Another problem solved with just a squeeze on the handle of the hot glue gun.
My point is that we are all engineers. Even little children stacking blocks.
Engineering is the application of science, mathematics and experience to produce a thing or a process that is useful. As in the previous example, engineering is making something that is useful. It is one thing to know the chemistry of plastic, but it takes engineering skills to dream up ways to make plastic useful. Sometimes it takes a woman who dabbles in crafts to dream up the idea of securing a toilet handle or broken eye glass frames together with a hot glue gun.
DATE: March 23, 2012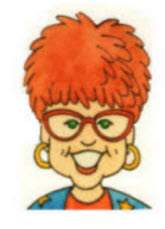 This is a temporary location for the Science Blog that I will be writing for Educational Innovations (EI). It's a new idea and things are not set up on the EI website yet. I wanted to advertise the blog at the it at the National Science Convention, which will be next week, March 26, 2012–through ?.
The blog will have specific ideas for using the EI science products, such as the GLO-Germ Kit with a link to www.scienceprojectideasforeveykids.com,  for additional research details, investigations, videos, etc..
When I peruse the Education Innovation catalog or website, I make notes about how the materials can be used to introduce and explore specific science concepts.
Science budgets (if you get one) are generally skimpy. While the prices for the EL products are inline with the quality of the materials, you might get one sample of more expensive items. This allows you to use the product to demonstrate an idea as well as allow one small group at a time to repeat the demonstrate. Then, your students can:
Design an experiment to test one specific variable relating to the science concept.
If necessary, design and construct materials needed for the experiment. 
For Example:
With the density ID Set shown, kids could rotate the samples from one group to the next until all the density of all the different types of materials have been determined experimentally.
Design an Experiment
To guide kids into learning how to design experiments, start by giving them one or more sample questions, such as:
1. What effect does the mass of a substance have on its density?
Clue: Kids need to determine the density of different masses of the substance tested.
2. What effect does the volume of a substance have on its density?
Clue: Kids need to determine the density of different volumes of the substance tested
3. What effect does the volume of a substance have on the mass of a substance?
       Clue: Kids need to determine the mass of different volumes of the substance tested.

Clues: Substances used could include, modeling clay, a container of sand, a potato, a container of water, etc…….
 National Science Standards
Some of the standards are the same for grades K-12. It it up to the teacher to figure out how to adapt them to their specific grade levels. This is where you can really help by providing specific ideas. I'll be providing examples, bur for now, only the standard and science topics related to density are listed.

K-4: Students should develop an understanding of  Properties of objects and materials.
mass and volume (density? depends on student ability).
5-8: Students should develop an understanding of properties and changes of properties in matter.
 mass, volume, density.

9-12: Students should develop an understanding of structure and properties of matter.
mass, volume, density
Density Investigations:
Relative Density with Ideas for Analyzing Data and Writing Conclusions
Sincerely,
Janice VanCleave
DATE: March 12, 2012
Thoughts about Metamorphosis
Hi,
Last year was so dry, but we are starting spring with wet soil and our ponds are overflowing. YEA!
The first signs of spring start me to thinking about growing plants for butterflies. One year my neighbor grew dill, which is one of the favorite foods of black swallowtail butterflies. The adult female lays her eggs on the leaves of plants that the caterpillars, which hatches out of the eggs, will eat.
FYI: Some caterpillars, such the monarch, will only eat one kind of leaf (milkweed).
I collected black swallowtail larvae and shared them with my grandchildren. Since these children live in another city, plans were made to meet at a restaurant in College Station, Texas- A city about half-way between our homes.
Being in Texas, one counts on the weather being HOT! So, I was prepared to take the caterpillars inside. Actually, I didn't give much thought to the caterpillars not being allowed. Thankfully, our waitress was cool with the idea of kids having caterpillars climbing on them and even held one of the caterpillars. Yes! The caterpillars went back into their container to eat and we all washed up before eating. Or did we! Just Kidding.
I don't remember other customers being disturbed, but then I don't remember anyone at nearby tables.
These caterpillars give off an odor when frightened. Either they were not frightened, or I've forgotten any problem with the odor.
I don't remember the caterpillars pooping on anyone either. But after a time, all my memories become "magic moments in time" with everything that happened being wonderful. 
Make Your Own Magic Moments
A Monarch Butterfly's Life Cycle: Complete Metamorphosis
Fun Facts About Butterflies and Moths
———————————————————————————————