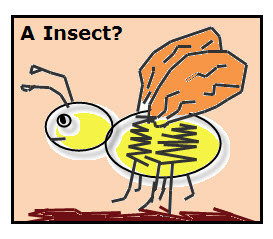 Bug is a term used for all creepy crawlers, including insects and spiders. An easy way to distinguish insects and spiders is called The 3 + 3 Rule.
Insects have:
three pairs of legs (3 legs on each side of its second body part)
three body parts
Let's Get Buggy
1. On index cards, draw simple bugs.
Make some the bugs insects (these meet the 3 + 3 rule for insects).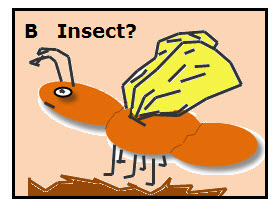 For example:
Drawing A has three pairs of legs, but only two body parts. This bug is not an insect.
Drawing B has three pairs of legs and three body parts. This bug is an insect.
2. Kids can separate the cards into two stacks:
Stack 1: YES (Bug drawings are insects)

Stack 2: NO (Bug drawings are not insects.)

After
kids know how to identify insects, they can create more BUG ID Cards.
More Facts About Insects
Insects have 2 eyes and 2 antennae on their head. Some are wingless and some have one or two pairs of wings on their second body part.