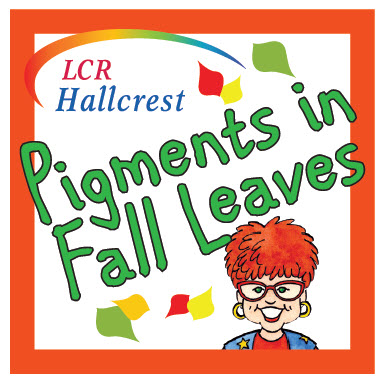 This kit contains chemical coated labels that change color with temperature fluxuations.
In designing the labels, I created color combinations that modeled color changes in fall leaves. For example, some green leaves turn yellow in the fall.
Leaves are green due to the presence of the green pigment called chlorophyll.
The yellow color in leaves is due the  presence of the pigment called carotene. Carotene is the name for a group of pigments that have yellow to orange colors.
Since chlorophyll and carotene are both present in leaves at the same time, why are leaves green in the spring and summer, then turn yellow in the fall?
Green leaves have more chlorophyll than carotene.  in leaves that green leaves. In the spring and summer the green chlorophyll masks or covers up the yellow carotene. But, in the fall, due to changes in the time duration of sunlight during the day and nighttime, physical changes occur in the stem connecting the leaf to the plant (tree). A layer of cells starts to grow across the end of the stem cutting off the flow of nutrients to and from the leaf. Without the proper nutrients, chlorophyll stop being produced. As the old chlorophyll molecules break down and are not replaced, the yellow carotene molecules that have been present all along, are not visible.
In other words, green chlorophyll masks the yellow carotene.
Once I understood the science behind the leaf color change, I worked on combining chemicals that could model the color change from green to yellow.
FACTS To Consider:
1. Blue and yellow paint produces a green paint solution.
I needed a mixture that produced a green color, but could change to yellow.
2. Yellow acrylic paint does not change with temperature fluction.
3. Heat activated blue thermochromic dyes will turn clear when heated.
I needed a blue thermochromic dye that was blue in color at room temperature. This dye must have a low heat activation temperature, the temperature at which it would turn clear. The heat from your hands had to be enough to reach the dye's activation temperature.
4. My plan was to mix yellow acrylic paint with blue thermochromic dye in a ratio so that the mixture was green at room temperature. Then, when heated the blue would turn clear and only the yellow would be visible.
While leaves to not reverse back to their original green color, the labels do change back to the room temperature color of green. The labels can be used again and again since the thermochromic dye is reversible and will continue to change when heated and reverse back to original color when cooled.
For more information about the labels in this kit, see Color_Kit_Brochure_Sheet_2
The thermochromic dyes and labels are produced by LCR Hallcrest.