Questions for Janice About Her South Pole Adventure
Why Did You Go?
When Were You There?
Did You Do Experiments?
I was invited to go to the South Pole by CARA (Center for Astrophysical Research in Antarctica). CARA is part of the University of Chicago and is sponsored by the National Science Foundation.
I think the next question should be–
Why did I accept the invitation, after all, I am a Texas gal who prefers hot weather over cold.
The answer is actually very simple– CURIOSITY! How could I turn down such an opportunity. Very few people have stood at the pole that marks the location of the geographic South Pole. I am one of them. Glad I went, but would not return–to physically and emotionally stressful.
Date Of Visit: I visited the South Pole in December of 1997, which was summer time in the Southern Hemisphere.
Temperature: Being summer time, the temperature at the pole was a toasty -20 o Celsius as compared to bone chilling winter temperatures of -70 o Celsius or lower.
Yes, even in the summer, the temperature at the South Pole is below O o Celsius.
Outdoor Investigations: Along with Randy Lansburg, CARA representative, we performed experiments that were suggested by kids responding to the website created by CARA to record data collected at the So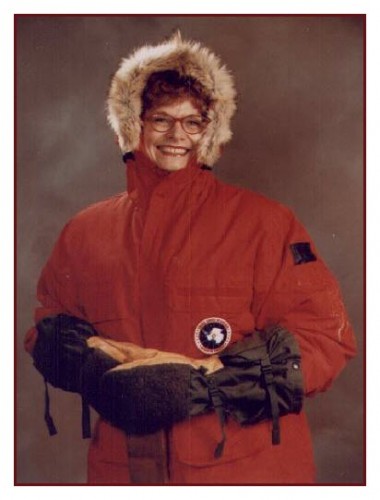 uth Pole.
While I was dressed warmly, I found the outdoor investigations as well as just moving from one building to the other physically draining. Also, to keep my hands warm, I had on two to three pairs of gloves. Many of the investigations required that I bend my fingers to hold instruments. With three pairs of gloves –soft pliable glove, covered by a wool glove, covered by a leather mitten–my fingers were warm, but had very little flexability.
I planned ahead and had everything organized, so that when necessary, I took off the first and even the second glove in order to set up some of my experiments. This was done as quickly as possible. My hands were painfully cold and it took a few minutes for them to warm up.
I moved in slow motion, while those who had been at the pole for several weeks or more zipped around with little concern about the cold. While the cold was part of my turtle-like motions, a bigger problem was the altitude.
At the South Pole, the altitude, is about 9, 300 ft (2790 m). At this altitude, the density of the air is less than at sea level, thus with each breathe, I received less oxygen at the pole. I had been instructed about these symptoms of altitude sickness:
Slowed Mental Ability: Prior to the trip, I prepared very detailed notes about each investigation–what to do–where to do it–how to collect data–how long to collect data–etc… I was glad for these instructions because with a decreased supply of oxygen, my brain seemed sluggish. It was difficult to solve problems. But I was aware of the problem and made every effort to focus on one thing at a time.
Because of my slowed mental ability, I got lost walking from one building to another. It was a scary a feeling as any nightmare I'd ever had.Was I really lost? No! But I was in a panic mode. For details of this adventure, see  LOST AT THE POLE.
Oxygen Deprived Muscles: Breathing air with less oxygen affected my entire body. Nothing was getting the usual oxygen supply. Enough to survive, but due to not getting enough oxygen, my muscles ached. The same thing happens when you exercise long enough to make your muscles sore the next day. Both examples are due to muscles producing lactic acid when they are not supplied ample amounts of oxygen.
Had I stayed at the pole a longer time, about 2 weeks, my body would have adapted to the thinner atmosphere. This adaptation involves an increase in red blood cells. These blood cells have hemoglobin, the iron protein that attaches to oxygen in the lungs and releases the oxygen in body cells. With more red blood cells, even if there is less oxygen in the lungs, more of the oxygen is picked up. With an extended stay at the high altitude, my body would not suffer from altitude sickness.
FYI: Those at the South Pole with thicker blood (a higher concentration of red blood cells) would feel extra energetic– even light headed at lower altitudes. This happens when the pole staff returns to home. It took time to for the blood to thicken, and own its own, their bodies adapted to the thicker atmosphere at lower altitudes by decreasing the concentration of red blood cells.
I've been looking at the notes I took before and during my South Pole Adventure. WOW! I'd forgotten how many experiences I had during this trip. I promise to share more soon.
Sincerely,
Janice VanCleave