Experimenting with Janice VanCleave Thermochromic Stickers
The video shows cups with colored designs around the outside. When what appears to be water is poured into the cups, the designs change color. Again water is poured into the cups and the original colors return.
Discover for yourself how to create what appears to be a magic trick with water causing colors to disappear and then to reappear.
Purpose: Create color designs on a paper cup that changes color with changes in temperature.
Materials (per person)
black permanent marking pen (other colors optional)
white paper cup
Janice VanCleave HAT Stickers
What to Do!
Prepare the Cup
1.  Using the black marker, draw designs around the outside of the cup. Other marker colors might also be used. Know that the marker colors are not part of the Magic and will remain unchanged.  
2. Use small pieces torn from the HAT Stickers to add color to picture you have created on the cup. When adding the sticker pieces, keep in mind that the colors at ambient temperature will change when the temperature is raised to a specific temperature above ambient temperature.
Now for The Magic!
You will need two containers, one with warm water and the other with cool water. Test the water from your faucet before you present your magic act to make sure the water temperatures will cause the HAT Stickers to change color.
1. Slowly fill the cup with warm water. Like in the video, as the water rises in the cup the sticker colors will change color. The pieces from a purple sticker turns pink,  green sticker pieces turn yellow, and orange sticker pieces also turn yellow.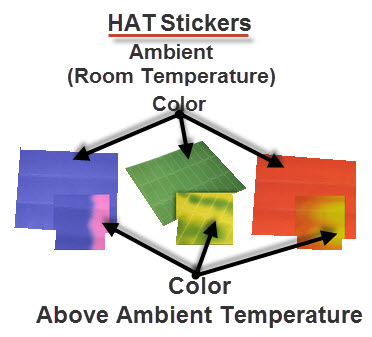 2. For a quick return to the original colors, pour out the warm water and fill the cup with cold water. Even if the stickers are cooled below ambient temperature, HAT Stickers return to the colors shown for ambient temperature.
TIP: The colored boundaries of each sheet of stickers should be kept and used for activities like this where pieces of the stickers are needed.