How to Prepare Red Cabbage pH Indicator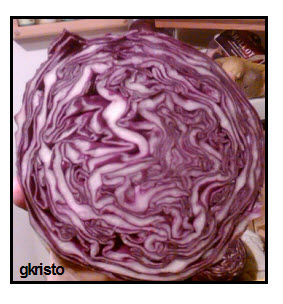 While the cabbage shown is definitely purple, it is commonly called RED cabbage.
With that out-of-the-way, I have a brand new way to extract the colored juice from this cabbage. FREEZE IT!!
This was one of those serendipitous discovery. Not wanting to discard an old partial head of red cabbage, I wrapped it and stuck it in the freezer. Sure enough, I needed to do some testing with red cabbage juice. I let the cabbage thaw and found it to be very soft and juicy. UUM!
I was able to use my hands to squeeze a dark purple juice from the cabbage.  This juice was so concentrated that it had to be diluted with distilled water to be used as an indicator for acid/base testing.
Important:
Refrigerate the cabbage juice to keep it from spoiling.