Scientific Method: How Scientists find answers to problems.
Actually, the method can be used by everyone for problems other than those related to science. Even so, I suggest that you encourage kids to be imaginative and to put on their science hat. This of course is a very special hat that could contain all kinds of "pretend science stuff."
Research: The act of finding information.
The photo of the dog provides a great deal of information about the dog, but for this activity, we are going to zero in on its tongue.
Ask the  children what the dog is doing.

Answers might vary from sticking its tongue out but some might say panting.
Explain that when a dog gets hot it pants, which means it sticks it tongue out and quickly breathes through its mouth.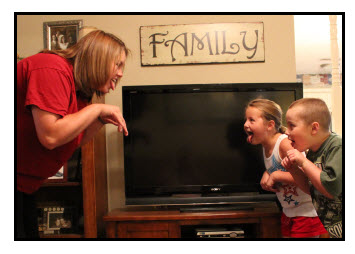 For fun, imitate a panting dog–get into character by holding up your paws. Invite the kids to pant like puppies. You have to admit that the kids in the photo are having fun.
Problem: A question to be answered.
I suggest that you present every science problem as a question like this:
"I wonder..How does panting make a dog feel cooler?
Hypothesis: An idea about what the answer to the problem is.
Encourage kids to make guesses. Also use the term "hypothesis." Tell the kids that since they are scientists they need to use big science words. By repeatedly using the term, the kids will quickly know what to do, which is to Make Fun Guesses!!!
Of course you cannot test every hypothesis, but the important thing is to encourage the kids to participate.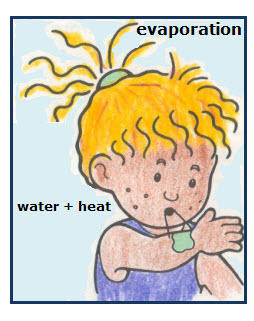 Experiment: A way to find out if your hypothesis (guess) is correct.
Tell the kids that you found a book that has a fun experiment about why dogs pant.
Explain that when a dog pants his warm breath causes the saliva on his tongue to evaporate. Again, point out that is a word that scientists use. Ask the kids to say the word, "Evaporate."
Give examples of evaporating, such as water in mud puddles disappearing. Does the water really disappear? No, but it does change into a gas that cannot be seen.
Say, "Let's make some liquid  evaporate from our skin to see if our skin feels cooler."
You can use wet cotton balls to wet a small area of each child's arm. Another option is to use baby wipes. After wetting the skin, each child is to blow on the wet spot to dry it.
Conclusion: A summary of all the information collected, including research and experiment results.
Say, "For this investigation, we we wondered how panting cools a dog. We discovered that when a dog pants, his warm breath makes the water on the dog's tongue evaporate."
Suggestion: You might ask if anyone remembers what evaporate means. Regardless what answers are given, praise the child in some way. You can even give clues, such as " Evaporate means a liquid changes into____ ????
The answer is GAS, which is invisible.
FYI: A liquid, such as water, evaporates when the liquid water molecules  gains enough energy to break away from the other liquid water molecules. The single water molecule is now called a gas and it can zip around in the room without being seen. This is because it is soooooooooo small.