Light Energy
When light passes through a prism, why is red light always first?
The light spectrum, red, orange, yellow, green, blue, indigo, and violet are listed in order of the energy. The lowest
light energy
is perceived as being what is called red.
When
light energy
passes from air into water, the speed of the light slows because water is denser than is air. When the speed of light changes as it passes from one medium to another, such as from air into water, the direction of the light changes. This is why a pencil looks like it is broken when it stands in a glass of water.
When
white light
passes from air into a prism, the different parts of the
white light
change speed, thus change direction. The light changes direction again when it exits the prism.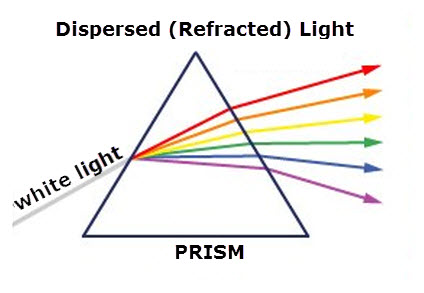 Instead of the white light passing straight through the prism, each part slows and its direction is different from the other parts. Violet light's direction changes the most from that of the original white light. Red light's direction changes the least from the original white light and the other light energy falls in between. Thus, red will always be first. 
Leuco Dyes are chemicals whose molecules can have two form, one form is colorless and the other form is colored. The colorless form is transparent, meaning that visible light is not absorbed by the molecules. Window glass is transparent, thus visible light passes through without being absorbed or reflected.

One example of a leuco dye is phenolphthalein, a chemical whose molecules respond to changes in pH (a scale measuring the acidic or basic nature of a substance). At a pH of 7 or lower, phenolphthalein molecules are colorless and transparent, thus a solution of phenolphthalein would have no color and visible light would pass through the solution. At a pH greater than 7, phenolphthalein molecules absorb most of visible light, reflecting parts that you perceive as pink to fuchsia in color.
Leuco dyes change color due to halochromism. In other words, color changes in response to changing in pH.
So What is pH?
 pH is a scale that describes how acidic or basic a substance is. A pH of 7 is neutral, meaning it is neither an acid nor a base. A pH less than 7 is an acid. A pH greater than 7 is a base.
Since color is due to chromophores, changes in pH affects the chromophores of the molecules of halochromic chemicals. 
This sounds so complex and at the molecular level there is a lot going on.
In the diagrams below, the structure of a chromatophore of a phenolthalein molecules changes. To understand this change, one needs to understand organic chemistry. But, even elementary kids can observe and determine that the two structures are different. Because of the differences, the structure on the left is transparent. This means that visible light passes through, much like visible light passes through a glass of water. The structure on the right reflects parts of visible light that make the phenolthalein molecules have a fuchsia color.  
The change in the structural shape of the chromatophore section of phenolthalein molecules is due to changes in pH.
Indicators are chemicals that exhibit halochromism. Common indicators are red litmus and blue litmus. Red litmus turns blue when it comes in contact with an acid. Blue litmus turns red when it comes in contact with a base.
In the same way as phenolphthalene, Leuco dyes in thermochromic inks have chromatophores that respond to changes in pH. Find out how dyes that are actually halochromic are the color changing part of thermochromic inks. 
| | | |
| --- | --- | --- |
| Changes in Chromatophore Structure | | |
| pH | 0?8.2 | 8.2?12.0 |
| Conditions | acidic or near-neutral | basic |
| Color name | colorless | pink to fuchsia |
| Color | | |