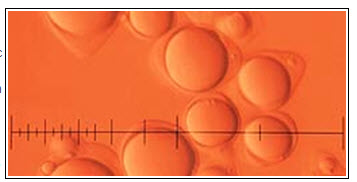 Leuco dyes are chemicals that can have two structural forms, one is colorless and transparent and the other is colored. Things that are colorless and transparent because visible light energy passes through, much like light passes through window glass. In fact, transparent means to allow something to pass through. Earth's atmosphere is transparent to some of the solar energy from the Sun but not all of it.
The dye's colored molecular structure absorbs and reflects different parts of the visible light energy spectrum. The reflected visible light energy enters your eyes where it is absorbed by special cells that sends an electric massage via nerves to your brain. Your brain decodes the message and voila' the dye appears to be a specific color.
The Leuco dyes in the Janice VanCleave color changing products are microencapsulated with special materials needed to activate a structural change in the leuco dye molecules. The color change is due to the leuco dye molecules mixing with the chemicals inside the microcapsules.
Believe me, I am amazed that all the necessary stuff to cause the leuco dyes to change from one structure to another and then reverse back again is within such a tiny–microscopic –capsule. 
Technically, the HAT (Heat Activated Thermochromic) Stickers and the CAT (Cold Activated Thermochromic) Stickers do not directly change colors because of the fluctuation of temperature. These stickers are coated with special mixtures containing leuco dye microcapsules. One more bit of information that ties this all together is that the solvent content of the microcapsules changes state, from solid to liquid in response to temperature changes. Thus, the color changes for the CAT Stickers and HAT stickers are thermochromic only in the sense that a change in temperature is necessary for the content of the microcapsules to mix and separate. The color change within the microcapsules is called halochromism (color change due to changes in the pH inside the microcapsules.
Free Lessons 
HAT Stickers :  Heat Activated Thermochromic stickers.
CAT Stickers:  Cold Activated Thermochromic stickers.
Posted in: Thermochromism