Matter is anything that has mass and takes up space.
Mass is how much stuff something is made of or contains.
Space is the volume that something occupies.
The states of matter, include gas, liquid, and solid.
Air is a gas, thus is an example of matter. While most gases are invisible, never the less, they have mass and take up space.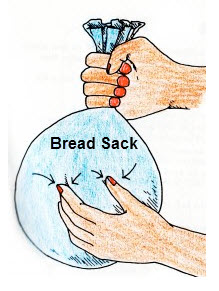 Discover for Yourself that Air Takes Up Space
Use an empty plastic sack, such as an empty plastic bread sack.
1. Fill the sack with air by holding the top open and moving the sack through the air.
2. Close the sack by twisting the opening and holding it with your hand.
3. With your free hand, squeeze the sack as shown.
4. Look into the sack.
Results  
The sack is blown up, but appears to be empty. The sack resists being squeezed. This means the content of the sack takes up space.
Demonstrate that Air Has Mass
Mass is a measure of the amount of "stuff" something has. For example, if you fill two bread sacks with different amounts of air, the one with the small amount of air has less mass. The bag with the largest amount air has more mass.
Adding Rigor
I. Design an investigation that compares the mass of different amounts of air (exhaled breath).
Clues:
1. Use two balloons of equal size to hold different amounts of air–inflate with your breath.
2. Design a balance, such as suspending a yardstick or meter stick so that the stick rotates about its center. This is the fulcrum of the balance (the point the stick rotates about).
3. Hang the largest balloon near one end of the stick. Secure with tape. The mass of this balloon will be m1.
3. Hang the smaller balloon on the opposite side and position so that the stick hangs as parallel to the floor as possible. The mass of this balloon will be m2.
4. Calculate the ratio of the masses of each balloon to the distance they are from the center, the fulcrum of the stick.
In other words, measure how far is m1 and m2 are from the fulcrum. Use this equation to show the ratio of the the masses of the balloons.  m1/m2 = d1/d2
II. Mass vs. Inertia
Design and calibrate an inertia balance. Use the balance to measure the mass of objects.
Clues can be found here:
http://scienceprojectideasforkids.com/2010/inertia-vs-mass/
Posted in: Matter