Matter>Compounds>Pigments>Chromophores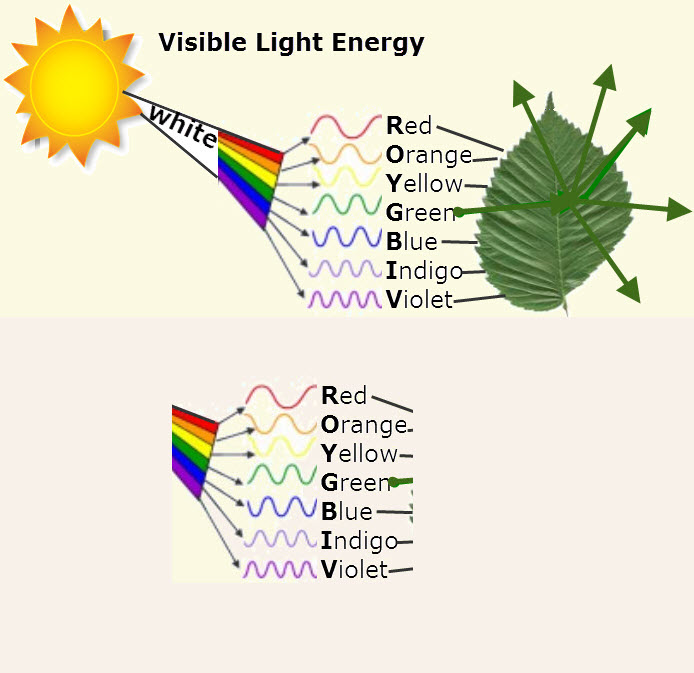 A chromophore  is a group of atoms in a chemical compound that are responsible for the color of the compound.
Pigments in leaves are compounds with chromophores. Chlorophyll is a green pigment with a chromophore that reflects green light.
Chromophores absorbs, reflect and/or transmit visual light energy.
The color of reflected visual light  enters your eyes and is absorbed by special cells on the back surface inside your eyes. These cells send a message to your brain. Your brain decodes the message and voila' the object has color. For leaves with chlorophyll, the reflected light is perceived as a shade of green.
Even though the same light energy is reflected from the leaf, the color of the leaf may not seem to be the same color to every person. We assume that most people see the same colors, but I always wonder about this. After all, what you see depends on a lot of information being transferred. Vision is a very interesting topic to read about.
Adding Rigor
More to Know and Find Out About
The chromophore is the part of an organic molecule that affects visible light, thus it can be said that the chromophore section is a functional group or moiety of the molecule that is responsible for color.
The chromophore of some organic chemicals, such as Leuco dyes, change color in response to different stimuli. Some Leuco dyes change color in response to fluctuations in temperature and other in response to being exposed to UV light. These changes, which can be permanent but often are reversible, depend on changes in the chromophore.
To prove that the color of an object depends on its electronic configuration that changes in response to pressure; response to temperature. Find out more about why Leuco dyes change color.
Leuco dyes have chromophores that change color in response to temperature.
Read about the HOMO and LUMO gap
Posted in: Matter