When light passes through a prism, why is red light always first?
The light spectrum, red, orange, yellow, green, blue, indigo, and violet are listed in order of the energy. The lowest
light energy
is perceived as being what is called red.
When
light energy
passes from air into water, the speed of the light slows because water is denser than is air. When the speed of light changes as it passes from one medium to another, such as from air into water, the direction of the light changes. This is why a pencil looks like it is broken when it stands in a glass of water.
When
white light
passes from air into a prism, the different parts of the
white light
change speed, thus change direction. The light changes direction again when it exits the prism.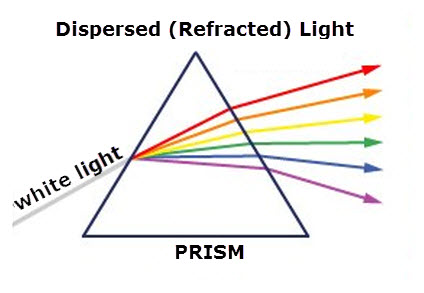 Instead of the white light passing straight through the prism, each part slows and its direction is different from the other parts. Violet light's direction changes the most from that of the original white light. Red light's direction changes the least from the original white light and the other light energy falls in between. Thus, red will always be first. 
Posted in: Light Energy