I love the idea that I can give my "pack-rat" characteristics a scientific title.
I am not a 'Pack-Rat"
I am a RECYCLER!!!
While I do recycle many of the things I collect, often times my collections grow and I have lots of stuff. This is because my recycling ideas stay in my head. I'll start recording my ideas here, and then I can give the materials to local teachers along with the URLs describing the recycling projects.
YEA!!!!!
—————————————————————————————————————————————————————————————
How to Recycle Empty Egg Cartons
Today I needed packing material for a box that would be shipped. While looking for bubble wrap or Styrofoam peanuts, I found a stack of Styrofaom egg carton. I had saved the cartons for a neighbor who use to raise hens and sold farm eggs. Now the cartons were stacking up.
I'd never thought about using these cartons for packing before, but it was a great idea.  With the egg cartons, the content of my box did not jiggle around.
When I use the eggs cartons in the future, I need to add a paper giving ideas for how the egg cartons can be recycled. Of course, one obvious use is as packing.
————————————————————————————————————————————————————————————–
How to Recycle Boxes
I rarely discard boxes, even the ones with print all over them. Generally, boxes have no designs on their inside surface, and most are easily taken apart.
I take boxes apart, often one edge is glued and this has to be pulled apart. With the box completely open it can be reassembled with what was the inside of the box being on the outside. Shipping tape secures the edge that was previously glued. Now you have a nice brown box in which you can ship or store materials.
UPS Shipping Boxes: When I receive boxes from UPS, I carefully open them so that I can recycle the box.
My favorite boxes are those that have no glued edges. These boxes are designed so that how they are assembled binds all the edges.
Example: I buy stuff at a local wholesale warehouse–SAM's. One item is a box with 8 cartons of peeled grapefruit. I love the box almost as much a the grapefruit. This box can very easily be turned inside out. The box is small, and I am now trying to figure out what to do with them. UUM!! I teach a Bible class at a local nursing home–maybe a local elementary class will decorate the boxes and I can give them as presents to the residents. I will have to eat more grapefruit so that I have enough boxes for everyone.
————————————————————————————————————–
How to Recycle Good Empty Cans
I have an obsession about throwing away perfectly good cans. Now the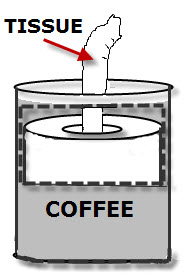 re are bad cans as well as good cans. The good cans when empty and open at one end have no sharp edges.
Tissue Dispenser:
Recycling Empty Coffee Cans

Materials: toilet paper roll, empty coffee can, scraps of contact shelf paper  (optional)
What to Do!
1. Using your fingers, pull the cardboard tube out of the toilet paper roll. Some are easier than others to remove. I work my fingers between the cardboard tube and the toilet paper. This breaks the roll free, making it easier to pull out.
2. When the cardboard tube is pulled out, it generally pulls the end of the toilet paper with it. If not, find the paper end inside the hole left by the tube and pull it out. The attached sheets of paper will start coiling out of the roll. You only need to pull out about six inches of paper.
3. Set the roll of paper inside a clean, empty coffee can. Voila', you have a Tissue Dispenser.
More Recycling Fun with the Tissue Dispenser
I use scraps of contact shelf paper to decorate the outside of the cans. I use these tissue dispensers in my home. They work will in the car.
If you have recycling ideas you want to share, send them to me at:
—————————————————————————
Metal Cans Create Cricket Chirps
The small tomato sauce cans that I purchase have rows of ridges around the outside. These ridges are covered with the paper label, which easily peals off when dry.
Male crickets chirp by rubbing their legs across ridges on their back. Strumming the ridges on a metal can produces a chirping cricket sound.
Do you have recycling ideas for cans or any other things that end up in the trash?