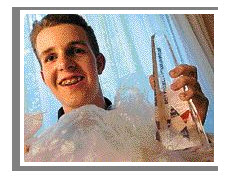 Daniel Burd, a 16-year-old from Waterloo, Ontario, as part of a 2008 science fair project, figured out a way to break down the polymers in plastic bags.
Does Burd's method really work?
Has a teenager really found a way to solve one of our environmental problems–getting rid of plastics in landfills?
Judges at the Canada-Wide Science Fair thought Burd's idea was worth pursuing. Burd received $30,000 in awards and scholarships. You can find out about  Burd's experiment  here .