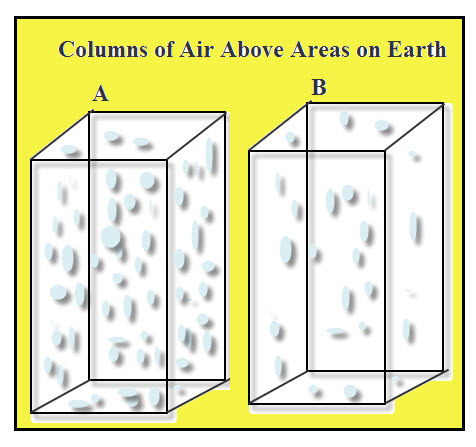 Meteorology is the study of weather in a given region.
Weather refers to whats going on in the troposphere (atmospheric layer next to the Earth). In other words, weather is the condition of the air layer above the Earth at a given place and time. Weather reports include air temperature, humidity (how wet the air is), wind direction and speed, and air pressure.
Weather is primarily influenced by heat from the Sun and the water cycle (movement of water between the Earth and the Atmosphere.
Climate is the characteristic condition of the atmosphere near the earth's surface at a certain place on earth. It is the long-term weather of that area (at least 30 years). For information about climate around the world, see World Climates.
High Air Pressure vs. Low Air Pressure

On weather maps, high pressure areas, or highs, are shown by "H" symbols. Low pressure areas, or lows, are shown by "L" symbols.
In a high pressure system, the density of a column of air above the area is more dense than is the density of an equal size column of air in the surrounding low pressure areas.
Wind is air moving parallel to the Earth's surface. Wind blows away from a high pressure area towards a low pressure area.
Clouds are more likely to form when the air pressure is low. This is because, the winds made of dense blowing into the low pressure air pushes the lesser dense air upwards. The upward flow of air cools and forms clouds and depending on how moist the air is, rain forms.
Generally, a sudden drop in air pressure is a sign of bad weather, while an increase in pressure indicates the weather is improving.
The diagrams represents two equal-sized air column. Each column is above an area of Earth's surface. The blue shapes inside each diagram represents molecules making up the air. All of the following statements about the diagram are true .
1. The density of column A is > the density of column B.
2. The air pressure of column A is > the air pressure of column B.
3. The sky is most likely clear and sunny for column A, while the sky for column B is cloudy.
4. Wind blows away from column A toward column B.
---
Earth Science is the study of the Earth, which includes the atmosphere (air layer), lithosphere (solid materials-rocks), and hydrosphere (water-oceans, rivers, lakes,and streams)