A mole is a chemical unit of measure.

Dimensional analysis is a method used to convert one  unit of measurement to another. Conversion factors are mathematical tools for converting between units of measurement. The conversion factor 1 ft = 12 inches is used to convert units of feet to units of inches or vise versa.
Example: How many inches are in 3 feet?
Think:
What conversion factor compares the units of feet and inches?
Conversion factors are ratios between units. 1 ft :12 in; 1 ft/12 in
In the dimensional analysis method, conversion factors are written as fraction.
1 ft/12 in or 12 in/1 ft
Next, select the correct version of the conversion factor the converts the unit of feet to the unit of inches.
Conversion factors are fractions. Remember when working with fractions, the first thing is to simply them: Do this by cancelling factors which are in common between the numerator and denominator. Factors can be numbers and or units of measurement.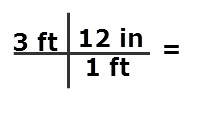 In order to cancel the foot unit, the conversion factor fraction used is 12 in/1 ft.
This is because the foot unit is in the denominator, thus the foot units cancel out as shown.
Remember that the vertical line separates fractions that multiplied.

Problem 1: Use Avogadro's Number (a conversion factor) to decide how many atoms are in 3.05 moles of calcium, Ca.
Clues:
Write the amount that is to be converted.
Add two lines, one to separate the numerators from the denominators. The second vertical line separates fractions that are multiplied.
Add the conversion factor.
Cancel units.
Multiply factors in the numerator. Divide by factors in the denominator.
Check your work with the following: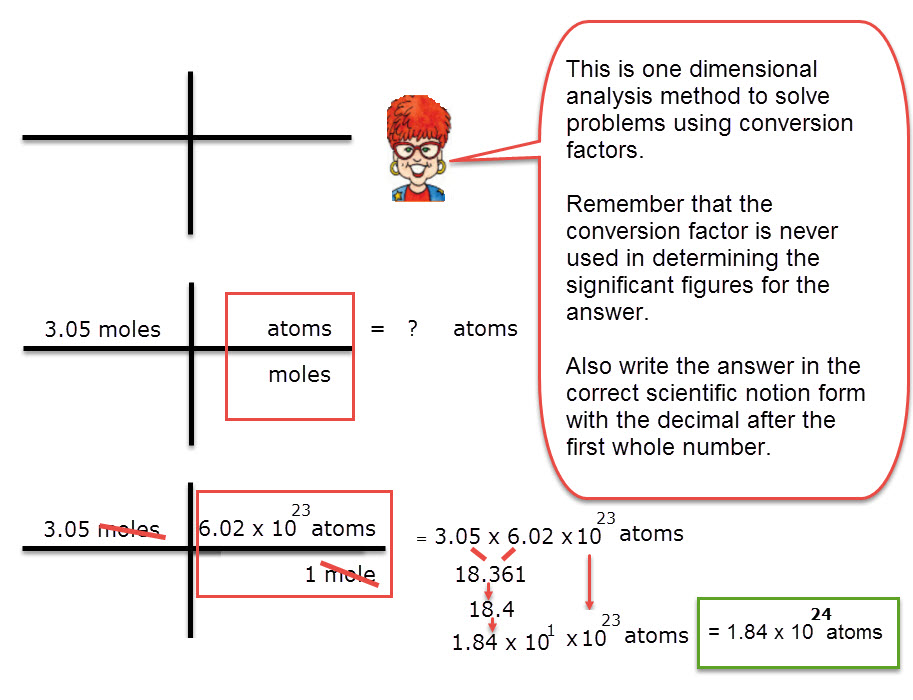 Problem 2:  How many moles lithium, Li  are equal to 4.2 x 10 26 atoms of lithium? 
Click How Many Atoms in a Mole? to find the answer for this problem.