Gravity is a force between materials. The greater the mass,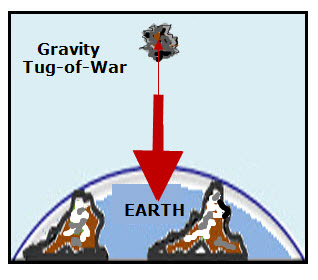 the greater the force of gravity, so things that have a lot of mass, such as the planet Earth, pulls things with less mass, such as a chunk of rock, to its surface. As shown in the diagram, the winner of the gravity tug-of-war between objects goes to the more massive object.
But what causes gravity?
Forces are thought to be carried by particles.
For example, photons are massless particles that carry the force of light.
So is there a particle that carries the force of gravity? While they have not been detected, such particle are being considered and even have been given the name graviton.  A graviton is the hypothetical particle of gravity that carries the force of gravity. As with photons, gravitons would be massless.
In quantum mechanics, we know that light comes to us in massless packets, or particles, called photons, which carries electromagnetic force with it. Because this worked so well and is essential to the theory of quantum mechanics, people hypothesized the existence of a similar particle which carries the gravitational force.  Because graviton particles carry very little energy, they are very hard to detect – but scientists are still  looking!