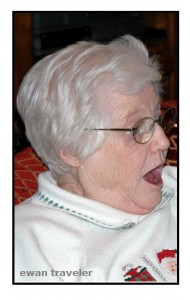 A hypothesis is a prediction about the answer to a question.
Encourage kids to give hypothesis. It doesn't always have to be in response to a science question. But, since a hypothesis is not a wild guess, they should have some reason for their hypothesis.
For example, use photos, such as the one shown. Ask the class to study the picture, and be ready to give a hypothesis about what is happening. Remind them that they must have a reason for their hypothesis.
Hypothesis Example:
Because the  lady has a Santa Claus on her shirt, I think she is  surprised about a Christmas present.
Use your own photos or find photos on the web, such as on Flickr Creative Commons where pictures are shared. Read the required credit for pictures that you use.