Phosphors that are Phosphorescent
vs. Phosphors that are Fluorescent

A phosphor is a chemical substance that when energized with certain types of light energy emits visible light. Some phosphors can be energized with visible light, but all phosphors can be energized with ultraviolet rays (a.k.a. ultraviolet radiation or ultraviolet light).
NOTE: Phosphors may or may not contain the phosphorus element.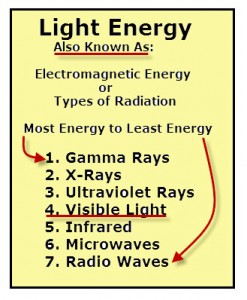 The chart shows the different types of light energy in order of energy. Gamma Rays are the most energetic type of light energy, and radio waves are the least energetic type of light energy. Radio waves is the name of energy and does not refer to a radio that plays music.
Scientists have created thousands of different kinds of phosphors. Phosphors differ in:
1. The type of energy that is needed to energize them.
2. The color of the visible light that they give off.
3. The length of time that they glow after being energized, which is known as the persistence time.
Fluorescent Phosphors
Some phosphors emit visible light only during the time they are being  energized. When the source of light energy is removed, the phosphor stops emitting visible light. These phosphors are are said to be fluorescent.
Glo Germ is a fantastic product which can safely and rather dramatically  demonstrates how germs are spread as well as proper hand washing techniques. Glo Germ contains microscopic plastic phosphors that fluoresce under a black light. To purchase glo-germs as well as a black light, see Educational Innovations Glo-Germs
Phosphorescent Phosphors
Other types of phosphors continue to emit visible light after the source of energizing energy is removed. These phosphors are said to be phosphorescent, such things  glow-in-the-dark.
Glow-in-the-dark toys contain phosphors that are phosphorescent. These phosphors can be energized with visible light, such as from sunlight or a light bulb.
Zinc Sulfide and Strontium Aluminate are commonly used for glow-in-the-dark materials. Of these two phosphors, strontium aluminate has a longer persistence time.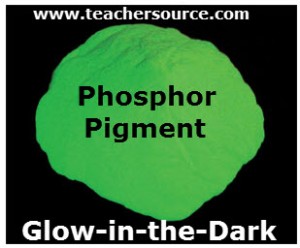 Make It Yourself
Using a phosphor pigment, you can make a glow-in-the-dark paint by mixing the pigment with white liquid school glue, such as Elmers Glue. To purchase this glow-in-the-dark pigment, see
Educational Innovations


For information about how a black light works, see How Stuff Works: Black Light
Natural Phosphors
There are natural phosphors, such as in the phosphors in the exoskeleton of scorpions. A scorpion will glow if you shine a black light on it, but stops glowing when the light is removed. Thus, the phosphors in a scorpion's exoskeleton are energized by the UV light from the black light. Since the scorpion phosphors are fluorescent, they only glow while being excited by the UV light (black light source).
Vaseline (petroleum jelly) contains chemicals that exhibit fluorescence when excited with black light.
Discover This For Yourself
Use Vaseline (petroleum jelly) to draw a picture on your hand, such as the smiley face shown in the photo. Then, in a darkened room, shine a black light on your hand.
CAUTION: DO NOT SHINE BLACK LIGHT INTO YOUR EYES. IT COULD PERMANENTLY DAMAGE YOUR EYES.