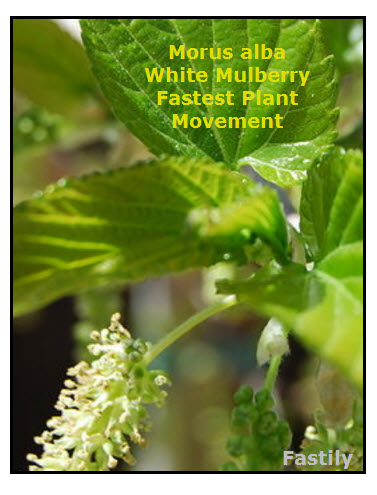 To date, the fastest moving plant is the White Mulberry (Morus alba).
The flower of this mulberry tree shoots pollen at speeds around 200 meters per second.
The flower is able to shoot pollen so quickly because its stamens work like medieval catapults.
How a Catapult Works
A catapult is known as a trebuchet, which has a throwing arm with a hinge or strap holding the object to be launched into the air.
For the flower, the stamens are the throwing arms, which are held in place by the flower's petals. The petals are elastic and can suddenly flip backward causing the stamens to snap forward. Attached to the stamens are containers of pollen. When the stamen snap forward, the containers of pollen are snapped forward causing the pollen to be shoot out.
The pollen lands up to 6 cm away from the plant. The entire process takes about  25?s (read as 25 microsecond or 25 one-millionth of a second).