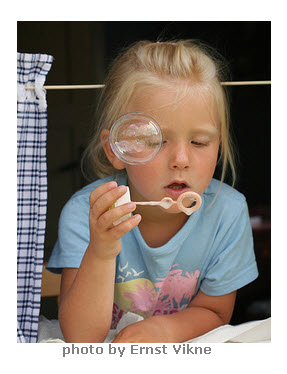 Question:
Why doesn't water form bubbles?
Answer:
Cohesion is the force between molecules that are alike, such as between water molecules. The cohesion between water molecules too strong to allow the water to form bubbles. The bubbles shown in the photo are made with a solution of soap and water. The soap reduces the force between water molecules to about one-third that of plain water.
The cohesive force between the molecules on the surface of a liquid is called surface tension. The soap solution is able to form a bubble because it has less surface tension than plain water.
Question:
What is the recipe for making homemade soap bubbles?
Answer:
This is a great question and I am not sure what the best recipe is. Maybe you can help me decide. Since the content of tap water changes depending on the minerals in the ground where the water is taken from, I suggest using distilled water. Most recipes suggest "DAWN or JOY" dishwashing liquid. A third ingredient is glycerin but some use Kayro syrup or sugar.
Following are some recipes. Notice how the ratio between dishwashing liquid and water vary. Do your own investigation and please send me your recipe.
1/2 cup of dishwashing liquid
2 cups of water
2 teaspoons of sugar
—————
1/2  cup of dishwashing liquid
4 1/2 cups of water
4 tablespoons glycerin
————————————-
1/2 cup of dishwashing liquid
1 1/2 cups of water
8 tablespoons of glycerine