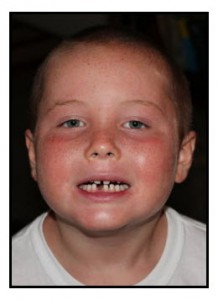 Deciduous Teeth : AKA
baby teeth
milk teeth
primary teeth
deciduous teeth
People have two sets of teeth. The first set, baby teeth,  start forming before a baby is born. When the embryo is about six weeks old, its baby teeth start developing. The eruption of these baby teeth starts when a baby is about six months old. Generally all twenty baby teeth have erupted by the time the baby is thirty-three months of age.
Around the age of six, the baby teeth begin to be replaced by permanent teeth.This process is usually complete by the time the child is twelve.
Hey!! Two things cannot be in the same place at the same time. To solve this problem the erupting permanent teeth push on the roots of the baby  teeth causing the roots to be dissolved and this material is absorbed by the forming permanent teeth. As the roots of the baby teeth breakdown, the baby teeth no longer have an anchor to secure them. This results in baby teeth becoming loose and falling out.